TSR App
A class scheduling app for TSR, Ted's Shooting Range, in Queen Creek Arizona.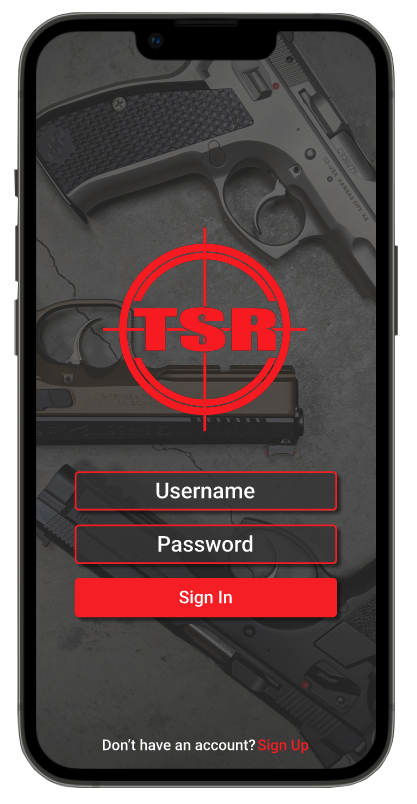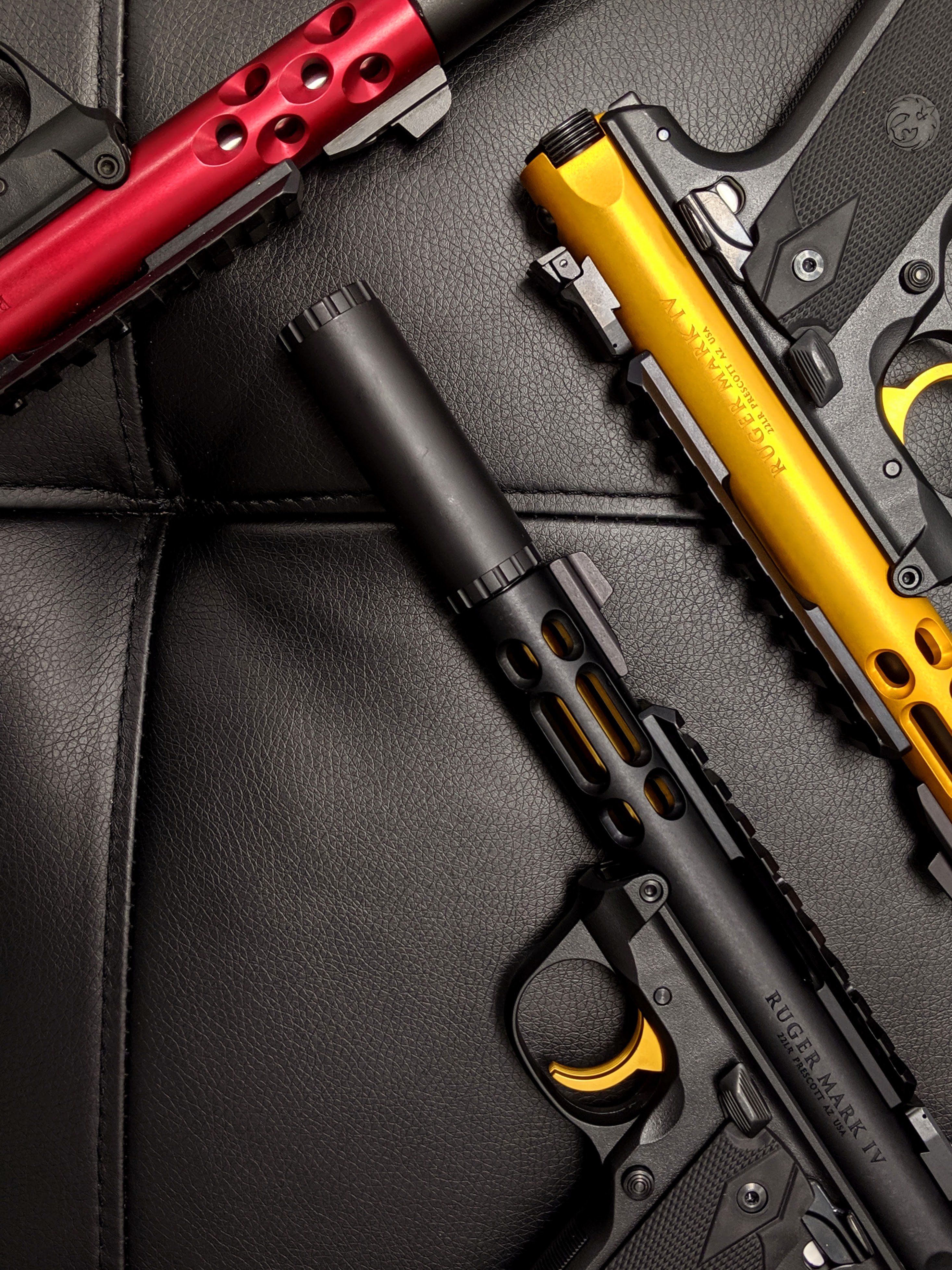 Project Overview
The product: A class scheduling app for TSR (Ted's Shooting Range) customers and students. TSR is a female owned business. Their vision is to be the family friendly neighborhood range where everyone feels welcome.
Target users: Male and female, 18-75years, new gun owners and enthusiasts.
Product Duration: January-February 2022
Working at TSR as a Social Media Marketing manager and handgun instructor, I noticed a lot of challenges. When I did this project our customers and students could only book classes by calling the range and pay over the phone, or walk-ins. The process was just inconvenient for both customers and instructors. I knew there are ways to improve the process, so that it's beneficial for both students and the business.
Challenges: Customers can't schedule a class online or through an app.
My goal: Using an app to simplify the scheduling and payment process for a class.
My role & responsibilities: Designer. I did conduct user research as in interviews and survey, competition research, sketches, wireframes, low fidelity and high fidelity designs, mockups and more testing

Between January 2019 - April 2021 7.5 million Americans became first-time gun owners
Survey & Interviews
Survey: Since the business was already in the process of rebuilding the website, I already had some data (online survey) of what users were missing today. 85 out of 100 wanted to be able to schedule and pay for a firearm safety class online.
Interviews: At the discovery phase of my project, I also interviewed new and regular customers to be able to create my personas. Based on my user research, knowledge from my position at the company and experience from previous classes, I created two personas. They are both female, since this is the group that expressed the main pain points and are the user groups the business wants to convert. The stakeholder, TSR, are always striving to encourage women to practice and to be independent in situations.
Interview Details
Where? Ted's Shooting Range, Queen Creek, Arizona
Interview Process:
How often do you come to TSR?

Why are you going to TSR?

What's your main goal here at TSR?

How many firearms do you currently own?

Have you ever scheduled a class here at TSR?

Why would you like to schedule a class?

If you have not scheduled a class here yet, what is stopping you from doing so?

Based on the process of the scheduling class today, how do you think it should be done?

Anything else you would like to add?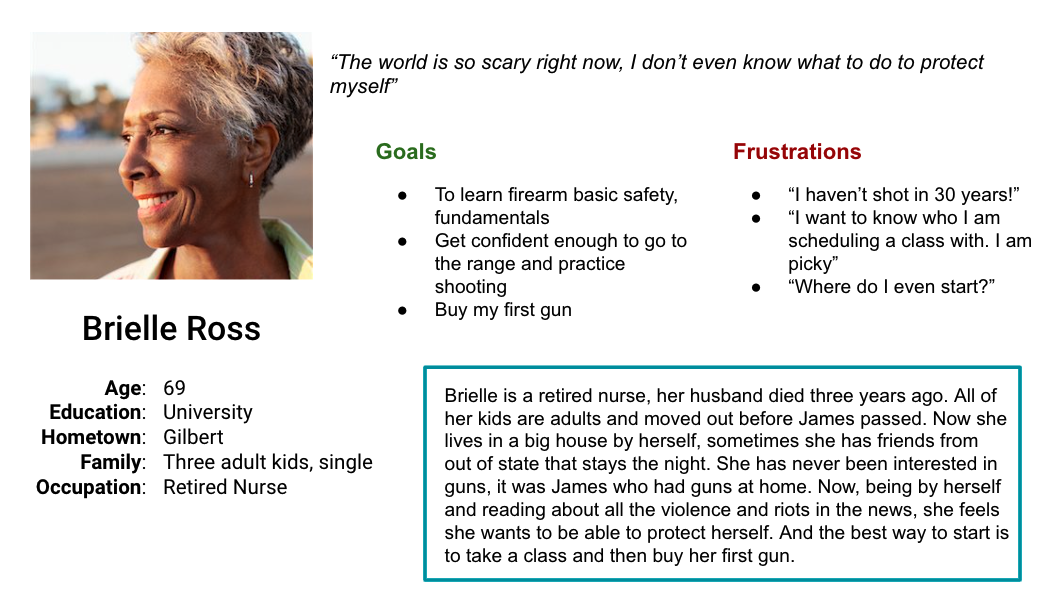 Persona 1
Brielle Ross
Brielle represents a big portion of our customers and students. She's a retired nurse who's husband died just a couple of years ago. This means she lives alone, don't have a lot of experience with firearms and can find the industry a bit intimidating. She's been around firearms pretty much all her life but never used them. Her husband was the one taking care of that when he was around.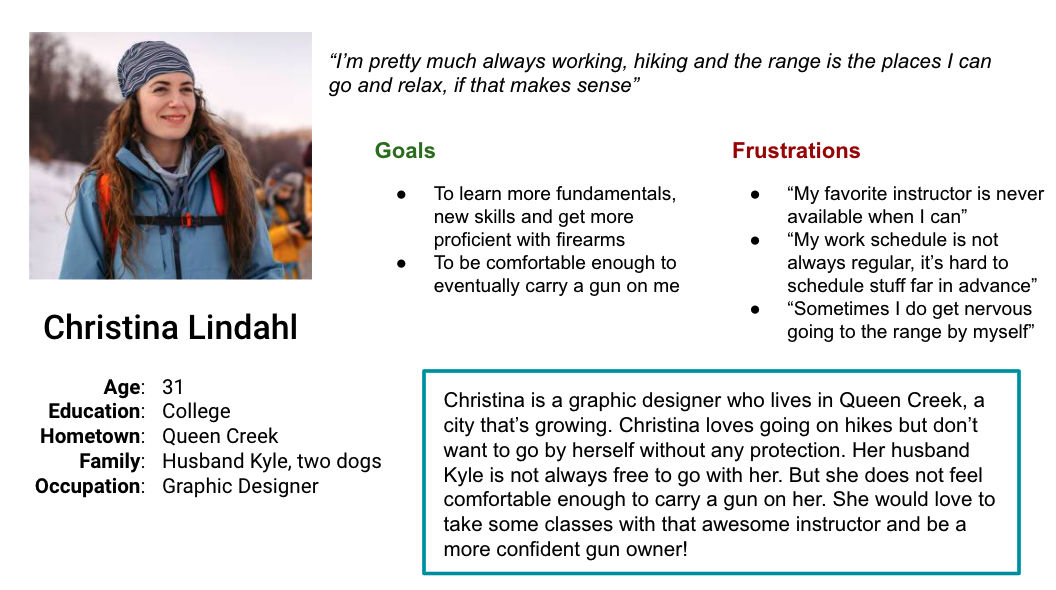 Persona 2
Christina Lindahl
Christina also represents a big portion of our clientele. She's a young woman who likes to go on hikes with her dogs. Unfortunately her husband can't always go with her. To be able to protect herself, she would like to carry a firearm on her, in case there would be dangers out there like mountain lions and bears.
1. Intimidation
Firearms are intimidating, especially as a novice. Some women don't know what to say or ask for when they are looking for a class. It can feel scary to walk in and talk to one of the male employees, especially for women who have some traumatic experience involving firearms and men. Some women expressed a wish to have a female instructor to feel more comfortable.
2. Convenience
Some customers have a hard time to come in or call during business hours. They want to be able to read up, research and schedule a class at their convenience.
3. Stressful
To be able to schedule it online or through the app would be less stressful and less intimidating. Standing in an environment (store), not knowing what to ask for or say, is a huge stress for many customers.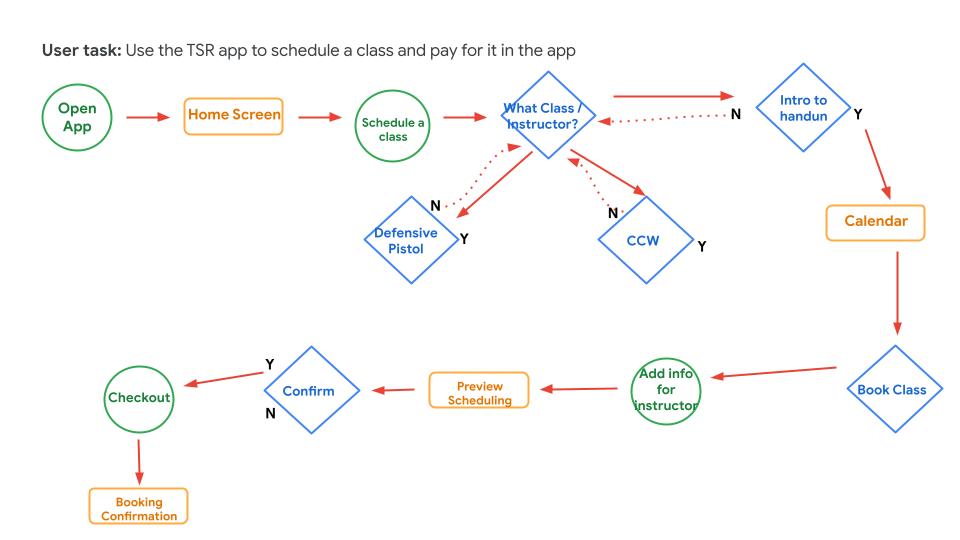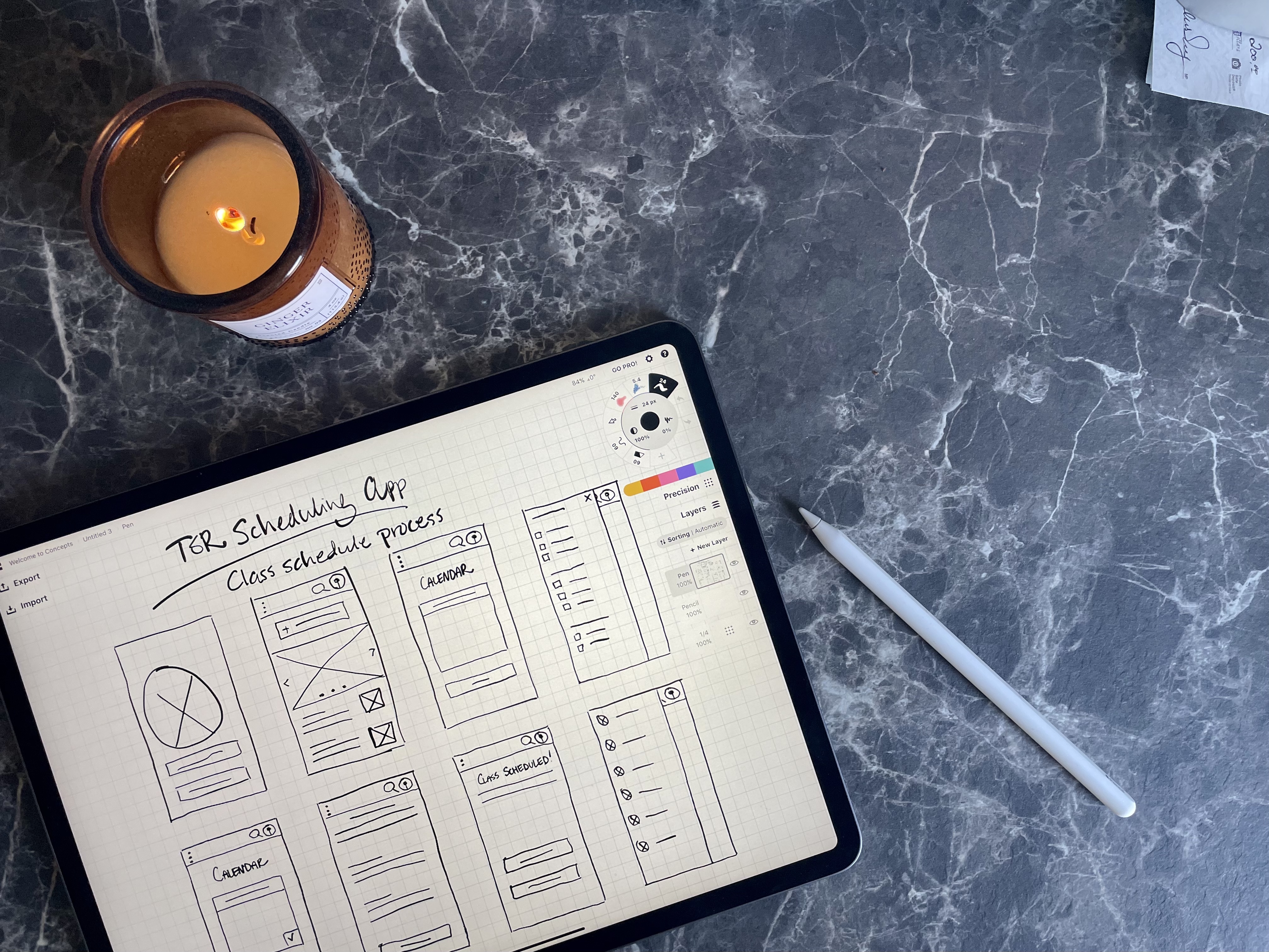 Sketches
See sketches above
Starting the sketching process I had an idea of what I wanted to incorporate in the design, based on my user research and knowledge of the company. Since not all of TSR's users are tech savvy, the process to schedule a class has to be easy. Other things I wanted in the design was; CTA (call to action button on home page), easy to use and navigate, calendar, filter, search, payment option in app.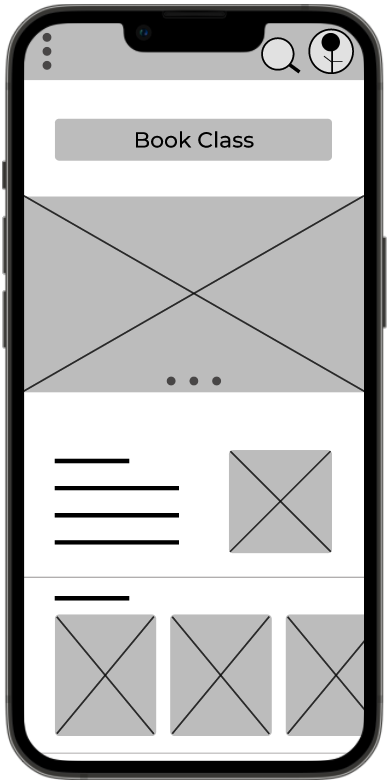 Wireframes & Lo-fi prototypes
At the beginning of my design process I created lo-fi prototypes in Figma for testing purposes. Before committing to one design I wanted to make sure that it was an easy design for my users to understand.
Since the app is designed for students to schedule firearm classes, I wanted the button up on the top. That way it would be one of the first actions users spots when using the app. The app will also include information about classes, profile, search option, navigation, calendar and more.
Considering many users expressed that they were looking for female instructors, I did add a gender filter option in the filter bar, as well as firearm types and kind of class. The calendar will then show dates with available open spots for their class or instructor.
After designing wireframes for the class scheduling process I conducted hallway usability tests at TSR.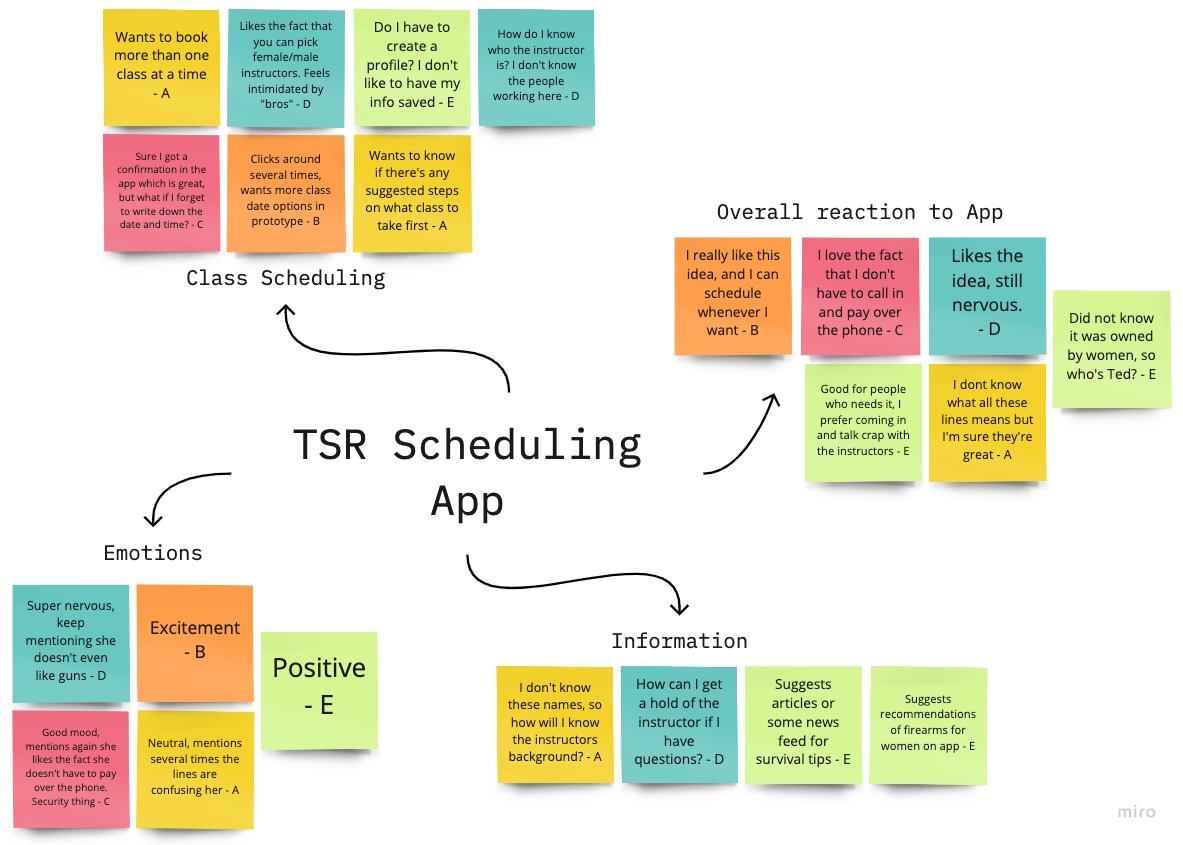 Usability test
Before the high fidelity design I did a testing round in order to reveal possible usability problems. Based on the test I did affinity mapping to better sort and organize my results.
The usability test was a hallway study at TSR, majority females and age group 21-68.
Findings
Users wants easy navigation

Users wants booking confirmation on phone/email, also a reminder, like add booking to their calendar

Users wants more information about instructors and classes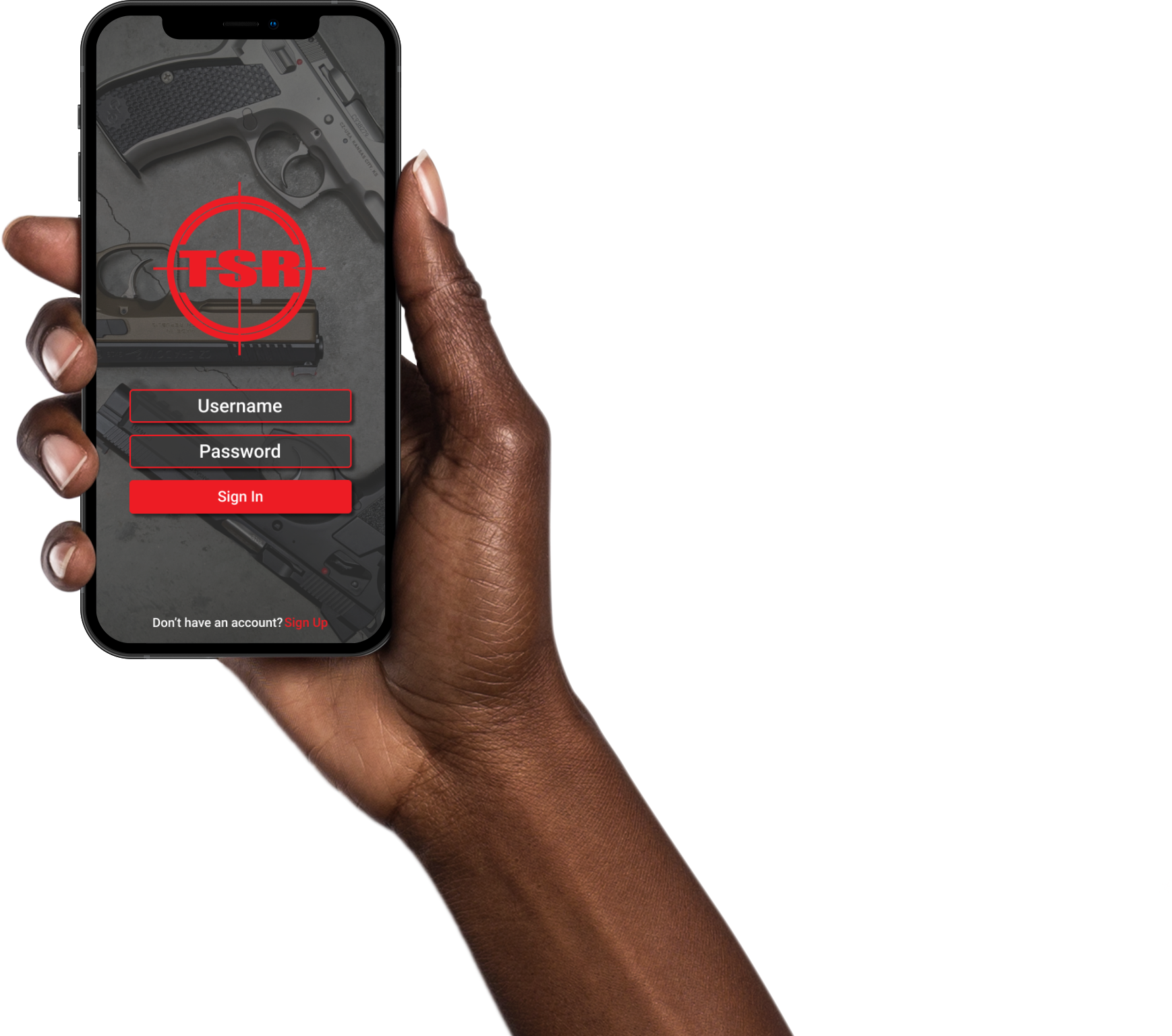 The Design
Once I tested out all usability mistakes, I started designing the final screens in Figma. The darker grey and red colors are based off the existing color theme TSR uses for their branding.
The buttons are consistent throughout the design and easy to spot. The users have several ways to schedule a class; either navigate straight to the calendar or read about the instructors first and find availabilities with a specific instructor. The user can use this app wherever they are, at their convenience and take their time.
Based off the errors in my usability study I added an "Apply filter" action for filters. The majority of the users also expressed a wish to be able to read more about the instructors. I added a page with instructor information, what they teach and a button that will take them straight to the calendar showing their availability dates.
The process is easy, users can book and pay for a class at their convenience. The whole process now feels less intimidating and safer (since they don't have to give out their credit/debit card information over the phone).

"I want this app now!" - Nora, Student
Impact
Great feedback from both customers, students and instructors

Stakeholder wants this app

"This is way more convenient for me when I am looking to take my next class" - Student
What I learned
Keep a strong branding while designing

The value of having a team to ideate and get reliable feedback

Never assume you know your users, they will surprise you
Next Steps
If this app was to launch in the real world, my next steps would be;
Market the app

Add more features, as in buy and manage memberships, book lanes etc

Conduct more research and further develop the app
I hope you enjoyed the case study.